The Lions Sight & Service Foundation was founded in 1964 under the leadership of Past District Governor Lion Howard Hanson. In 1964 it was incorporated as a 501C (3) tax-exempt, non-profit educational organization in the State of South Dakota. All Lions of South Dakota, in good standing with Lions Club International are members. In 1996 the name was changed to the South Dakota Lions Foundation.
A state wide fund drive, together with federal matching funds resulted in the construction of the Lions of South Dakota Rehabilitation Center for the Blind, located at 800 West Ave. N. in Sioux Falls. This building was completed and dedicated in 1970. This building was leased to the South Dakota Service to the Blind and Visually Impaired for the purpose of providing a rehabilitation center for the blind and visually impaired in South Dakota.
A second statewide fund drive, together with federal matching funds provided funding for an addition completed and dedicated in 1979. This addition more than doubled the size of the building, and provided space for the training and employment of South Dakotans with vision-related and other disabilities. In 1998, this program was privatized and became the South Dakota Industries for the Blind, a nonprofit organization.
In 1987, a resolution was adopted to support the formation of the South Dakota Lions Eye Bank. The South Dakota Lions Eye Bank became a reality in 1991 and is an independent nonprofit organization.
In 1995, the Lions of South Dakota approved the development of a mobile screening program for rural South Dakota. Another statewide fund drive and a grant from Lions Clubs International Foundation allowed for the purchase of the South Dakota Lions Mobile Screening Unit (MSU). The South Dakota Lions Foundation took possession of the 38 foot MSU in April of 1997. Through funding by the SD Lions Foundation and sponsorship by Lions Clubs, the MSU provided screening tests for blood pressure, blood sugar, vision, hearing and glaucoma.
During a long range planning retreat held in 2005, the Board of Directors developed a Strategic Long Range Plan which receives an annual review. That plan outlines the vision of the Foundation and helped formulate our mission statement, "Partnering with Lion, Lioness and Leo clubs to assure a legacy of vision and hearing related services for South Dakota Citizens."
In early 2005,-the Sioux Council Boy Scouts of America approached the SDLF Board of Directors with an interest in purchasing the building. After a great deal of study and contemplation on June 11, 2005 the SDLF Board of Directors unanimously voted to sell the Foundation building to the Boy Scouts. Today, the SD Lions Foundation continues working to fulfill our mission by providing matching assistance grants to clubs and other programs that serve the blind and visually and/or hearing impaired.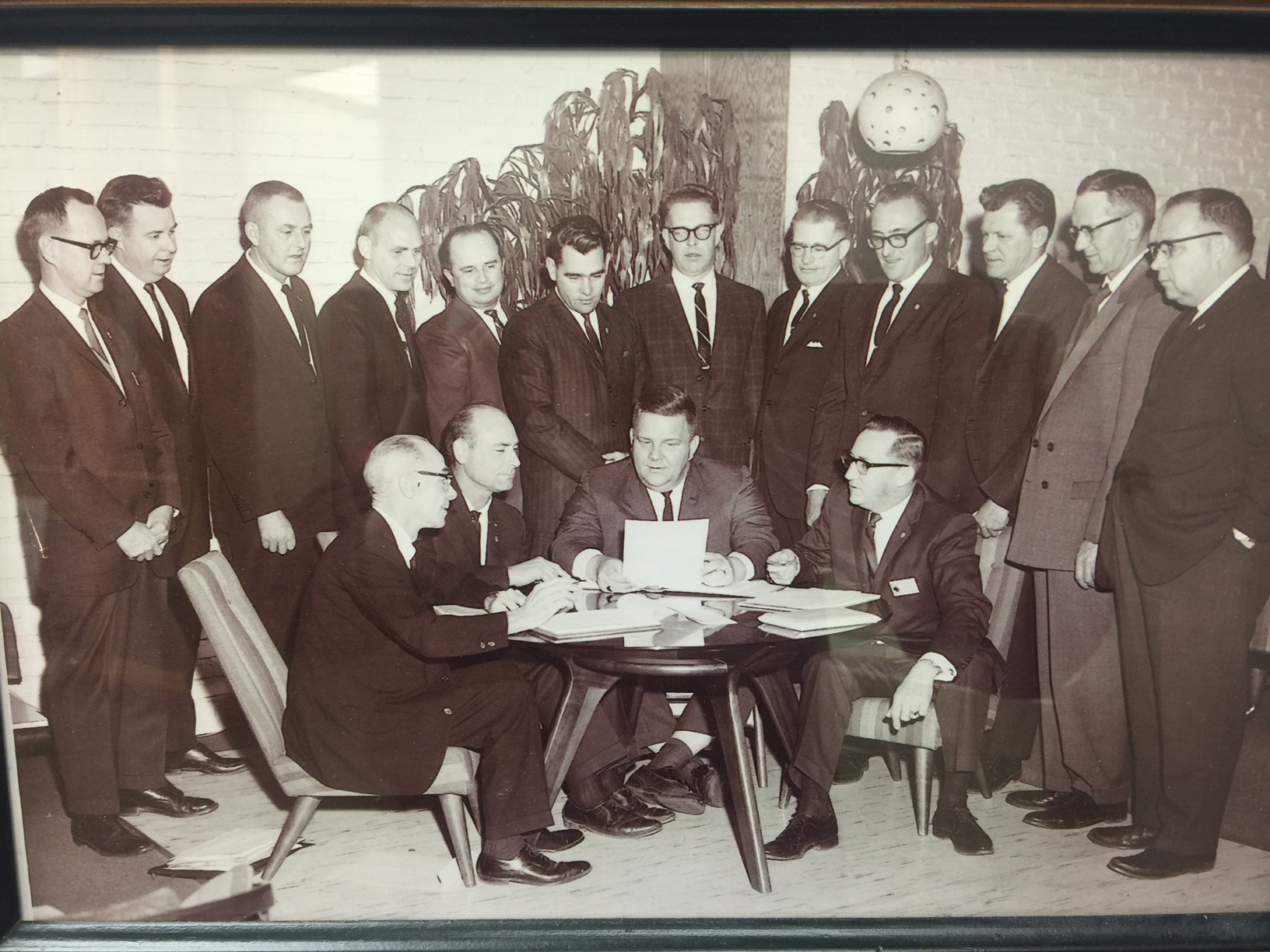 Original Charter Signing, December 1964 in Rapid City SD.